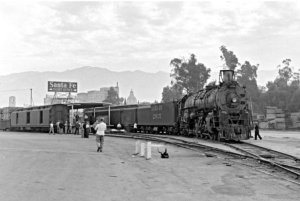 Kistler photos available – from stan kistler himself!
The Society is pleased to announce that noted Santa Fe and Western railroad photographer Stan Kistler makes part of his collection of photos available to Society members and the public.  The collection is comprised of nearly 5000 black and white photos of The Atchison, Topeka & Santa Fe Railway from the 1890s to the 1990s.  Photos are available in either hard copy or digital format and are produced by Stan with careful attention to faithfully reproducing the original negatives.  Part of the proceeds from each sale go to support the Society.
photos available
Stan Kistler has made the following two collections available at this time:
Click on either of the two files and you will download the catalog in PDF format.
ordering and Pricing information
Pricing:  Either paper or digital 10-inch images are $7.50 each. California sales require the current sales tax.
Shipping, Postage and Handling:  Paper prints require postage charges of $4.50 for the first print, 20¢ for each addl. in the same order.
Digital images require a valid e-mail address and prepayment by PayPal to: mratsf@att.net.
Ordering:  
Images as large as 16 inches in horizontal format are available on special order.
Mail orders are preferred with payment by check or Money Order. Credit Cards not accepted.
Orders are accepted online using PayPal.  Lengthy orders of more than ten (10) Items should send an accompanying e-mail cover letter with all items listed and full name and address.
Be sure to specify print or digital. Orders are usually filled within two to three weeks of receipt of payment.
Special Instructions for Lists SF-1 and SF-2:

From SF-1: List by engine number. Add date if more than one view shown of same engine.
From SF-2: List by car number, or "C" number
Use "M" number for any miscellaneous views
Stan's contact information is available in the PDF downloads.
Enjoy these fabulous photographs of Santa Fe's past!