2018 Chicago Convention – The Extra Fare de-Luxe!
July 19-22, 2018 (Note: Clinics Thursday-Saturday; Extra Fare info available).  Register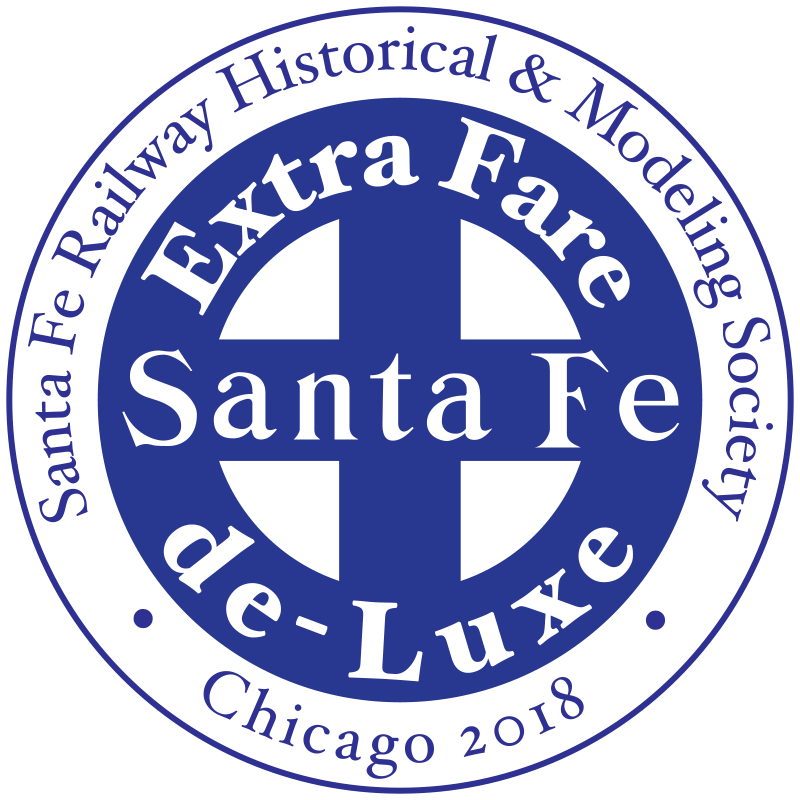 This year's Convention will be in the Windy City. Convention headquarters will be at the Sheraton Lisle Hotel in Naperville. Room rate will be $109. The hotel is convenient the Amtrak station and Naperville offers a collection of regional and nationally favorite shops and restaurants, 30 acres of formal gardens at Cantingy and the internationally recognized Morton Arboretum with 1,700 acres with more than 222,000 plants from 40 countries. Chicago attractions include The Museum of Science and Industry, The Chicago History Museum, Art Institute and the Field Museum. The Illinois Railway Museum in Union is the largest railroad museum in the U.S., with a collection of over 450 pieces of rolling stock, including with 5 miles of operating mainline and the Pullman Historic District and National Monument, a unique community built in 1880 as an industrial town for the Pullman Palace Car Company. Your convention committee is preparing a full slate of activities. The HO scale Midwest Mod-U-Trak model railroad on display featuring Illinois Division scenes in a 40 x 20 space.
Feature Presentations:
Don Lamb, "The Extra Fare de-Luxe"
James Brown, "The Airline, Illinois–Missouri history and construction"
Confirmed clinics include:
John Barry, "Santa Fe's San Francisco Bay Marine Operations"
James Brown, "The Railroad History of Streator, Illinois"
Paul Nash, "The Conversion of Corwith Yard to an Intermodal Terminal"
Steve Cigolle, "Illinois Division Line Changes"
Warren Scholl, "Engineer Training on the Santa Fe"
Richmond Bates, "The History of the Santa Fe in Galesburg, Illinois"
Peter Aue, "Modeling SFRD Reefer Blocks during the Transition Era"
Tom Casey, "Modeling Santa Heavyweight Cars with Styrene Car Side Construction"
Convention registration packets will be in the mail or you can register on-line.
Extra Fare Trips include:
Tuesday, July 17th, to Illinois Railway Museum near Union, Illinois.  $65.00/person.  Bus provided.
Wednesday July 18th to Corwith Yard, Willow Springs Intermodal Yard, and Logistics Park.  $65.00/person.  Bus provided.
Extra Fare activities have been added to registration link (see below).  You will need to put in your name and contact information again but DO NOT re-register for what you have already signed up for; that will result in double billing.  Put in "0" for those items  you have already registered for.  If registering for Extra Fare activities, just enter how many tickets you want in those boxes at the end of the registration page.
On-Line Convention Registration
Here is the link to this year's registration form:
https://sfrhms.org/conventions/register/
Convention Hotel
The Convention Hotel is the Sheraton Lisle Naperville hotel, near the Naperville Amtrack Station, which is a Southwest Chief stop. Rooms are $109 per night.  You can sign up for rooms at the following link:
https://www.starwoodmeeting.com/Book/SantaFe2018
More information on the clinics and Convention activities will be presented soon.  Until then you can contact Convention Chair Preston Hamilton for more information by writing him at 5130 W Winona St, Chicago, IL 60630-2332, Email or Telephone: (773) 685-8750.
Annual Conventions
The Society hosts an Annual Convention, continuously occurring since 1981. The Convention is an opportunity for Society members from all over the world to gather to share their interests and fascination in the Santa Fe. Conventions run from Friday morning through Sunday morning, but often include "extra fare" activities to enjoy local Santa Fe or railroad attractions before the formal start of the Convention. Included are:
Clinics by experts on various aspects of Santa Fe history and modeling.
Talks by significant figures. Past talks have included former Santa Fe President John Reed and Mike Haverty, noted railroad historian Wally Abbey, and Santa Fe and BNSF officials.
Model and Photo Contest. The Society offers both a popular vote contest for Santa Fe models and photographs and a technical contest for serious model builders leading to the coveted Master Santa Fe Modeler title.

Past Convention model and photo contest winners
Model and Photo Contest Rules
Master Santa Fe Modeler

Vendor room. A highlight of every convention is the vendor room, packed with vendors offering a wide variety of Santa Fe memorabilia, books, models, modeling supplies and other materials. The Society always stocks a complete Company Store featuring the Society's books, magazine back issues, models and related products.
Networking. One of the best parts of the Annual Convention is the opportunity to find Society members with similar interests, sit down with experts on Santa Fe history and modeling, and discuss your questions and interests with them. Conventions typically have ample seating and access to a lounge to facilitate building friendships with folks sharing similar interests.
Awards Banquet. The Awards Banquet is an opportunity for Society members to share in the success of their comrades in the model and photo contest, the fun of raffles and silent auctions of Santa Fe items and models, and the excitement of the Lifetime Achievement Award.
Annual Meeting. The Society's Annual Business Meeting is Sunday morning, where Society members hear reports from the Society's officers, directors, and operating committee members approve major changes in Society practice, provide feedback to the board on what books, products and services members would like to see. These are lively and informative sessions.
Extra fare activities. In addition to the formal activities, most Conventions offer extra fare activities riding trains, visiting museums or seeing significant Santa Fe sites.
Society Conventions typically gather 250 or more individuals from across the United States, Europe, Japan, Australia and New Zealand. Come share in the magic of a Santa Fe Convention!
Upcoming Conventions
The Society is planning Annual Conventions at the following locations:
2018: Chicago, IL, Preston Hamilton
The convention will be from Thursday July 19 through Sunday July 22, 2018 at Sheraton Lisle Hotel. Members who have attended RPM Naperville in the past few years will be familiar with the hotel. Room rate will be $109.
2019: Pueblo, CO, John Denny.  The Convention will run from July 24 through July 28.
2020: Albuquerque, NM, Dave Traudt
2021: Kansas City, MO
Past Convention Reports
Read about prior Annual Conventions and see what members did, learned, and showed!
Reports on other past conventions and Mini-Meets
List of all International conventions
Society Mini-Meets
Our Mini-Meets are regional based gatherings generally one half to one day long on a Saturday. Interested members have organized these meets in areas not regularly visited by our conventions allowing us to reach the East Coast and the Pacific Northwest.  A mini meet may include;
Clinics by experts on various aspects of Santa Fe history and modeling.  Some of these clinics are "warm ups'" for a presenter who will be at a future Annual Convention.
Models on display for close up viewing and discussions with the builder.
Networking with fellow Society members who live close by and a good way to attract new members.
Upcoming Mini-Meets
March 10, 2018 – Indianapolis Mini-Meet, Indianapolis, IN, 9 am to 5 pm plus layout tours on Friday and Saturday night.  James Brown and Paul Nash will talk about history and prototype operation, while Michael Tomei and Tom Cain will present modeling clinics.  Preregistration: $15.  Contact Tom Cain to register at  atsf93@comcast.net.  Click for the 2018 Indy Flier.
April 5-8, 2018 – East Coast Santa Fe Modelers Annual Meet, Doylestown, PA, Student Center of Delaware Valley University,

700 Butler Avenue, Doylestown, PA 18901. Schedule:

Thursday Evening, April 5   – Railroad Open House at Nick Brownsberger's PRR (large) layout
Friday, April 6, 8:00 AM, Breakfast at Perkins; 12:00 to 1:30PM, Lunch at Perkins; 2:00 to 4:30 PM, Registration, set up of sales tables, networking; Dinner 4:30 to 5:30 PM in the University Dining Hall.  Clinics:  6:00 to 7:00 PM Richmond Bates: "Illinois Northern Railway"; 7:15 to 8:30 PM, Dick Makse: "Strong City and Osborne Subs"; 9:00 PM – On everyone is invited to Don Borden's Cajon Pass Layout after the clinics.
Saturday, April 7, 7:00 AM Breakfast at Perkins; 8:30 to 9:00 AM, Registration; 9:00 to 9:50 AM, Welcoming comments and ECSFM business meeting; Clinics: 10:00 to 11:10 AM, Tom Madden, "Pullmans of the Santa Fe, Prototypes"; 11:20 to 12:30 PM, Eric Hiser: "The Gila River Canyon: Santa Fe's Other Gorge War"; Lunch 12:30 to 1:15 PM in the Coffee House (pizza, included in registration) and also include TCS throttle/command station presentation in the Music Room and browsing of sales and auction table; Auction 1:15 to 3:30 PM; Clinics: 3:30 to 4:55 PM, Video presentation with Stan Kistler; 5:05 to 6:00 PM, Tom Madden, "Pullmans of the Santa Fe, Modeling"; Dinner 6:00 to 7:00 PM in the University Dining Hall; Clinics 7:00 to 8:30 PM, Richmond Bates: "The Santa Fe in Galesburg, Illinois"; 8:00 to 9:00 PM, Eric Hiser: "Santa Fe Transportation Function"; 9:00 to 9:45, Cleanup and load out; 9:45 PM – On everyone is invited to Don Borden's Cajon Pass Layout after the clinics.
Sunday, April 8.  8:00 AM Breakfast at Perkins
REGISTRATION:             ECSFM Members                 $25.00 before March 15th, 2018, $35.00 after March 15th, 2018 Send checks payable to "ECSFM" to: Mike Davis, 960 Placid Court, Arnold, MD 21012.  Questions: email mjdavis55@gmail.com
HOTEL: Main St. Inn (ex Days Inn), 625 North Main Street, Doylestown, PA 18901, (215)-348-9222, Reservation name: "East Coast Santa Fe Modelers".  Block registration Deadline: March 1stThere will be a display of models with a prize for the best display

April 21, 2018 – Winslow Mini-Meet, La Posada Hotel & Gardens, Winslow, AZ, 303 E. 2nd St. (Route 66), Winslow, AZ  86047.  Cost is $5.  Meet will run from approximately 9 am until 4 pm.  Currently, the following clinics are planned, although we are looking for one more as well:

Cajon at War: Seven Days in May 1945.  Stuart A. Forsyth.  This clinic shares the fascinating results of analyzing Santa Fe Los Angeles Division First District (Cajon Pass) train sheets for May 1-7, 1945.  Learn about all the information that is on a train sheet; the FileMaker database that was built to analyze them; and what the train sheets reveal—including the numbers, lengths, tonnages and speeds of the trains operated, and the types, numbers and assignments of the engines used to haul them.  See a day in the life of an operator at Summit, as well as a steam locomotive assigned to helper service.  Learn how Santa Fe and Union Pacific ran the railroad during the punishing-traffic days of World War II and the engines you need to model those operations.
Santa Fe in the Bay Area – Reflections of a Former Santa Fe Employee.  William Root.  Bill will speak about Santa Fe operations in the Bay Area with emphasis on the Marine Department. Bill's father-in-law was Chief Boat Dispatcher first at the Santa Fe station at 44 4th Street in San Francisco and then in Richmond towards the end of marine operations. His father was the mechanical superintendent in Richmond and Bill worked out of Richmond in both train and engine service.
Apache Railway – 100 Years a Survivor.  Tom Messer & Wayne Monger. 

Known simply as the last bastion of big ALCO road locomotives performing revenue freight service in the Western U.S., the 100-year story of the Apache Railway is a complex one tied to the forest products and tourism industries of northeastern Arizona. With a history of huge successes intermixed with surviving near-death experiences, the dedicated staff and ownership of today's Apache Railway are once again working on a miracle that will not only see the Apache Railway survive – but will be successful enough to keep those big ALCOs operating well into the future.

Cajon at War: The San Bernardino Bomb Plant and the Rialto Ammunition Storage Back-Up Point.  Stuart A. Forsyth.  This clinic tells the story of the top-secret incendiary bomb plant that was built for the U.S. Army Chemical Warfare Service at Ono, just outside of San Bernardino, at the beginning of WW II; how its products were shipped by rail (some to a custom-built top-secret ammunition storage depot at the North end of Santa Fe's Rialto Foothill Spur, but most to the Los Angeles Port of Embarkation for shipment to the Pacific), and the vital role they played in not only the very first attack on Japan, but more importantly, in bringing World War II itself to an end. We've all been told it was the atomic bomb, but …We are still looking for one more clinician.  Contact Eric Hiser at ehiser.RR@gmail.com to speak or for information. Book rooms at www.laposada.org.

April 21, 2018 – Northwest Mini-Meet, Pacific Northwest Railroad Archive, 425 SW 153rd Street, Burien, WA  98166.  9:00 doors open, program begins at 10:00 am, ends at 4:45 pm.  Cost is $10.  Tables available for sale of railroad related items $10.  Please contact John Thompson if you plan to attend or need a table, so that a copy of the materials can be made for you before the event or a table reserved.

Santa Fe's Flat Cars and HO Models.  Bill Messecar
Building a Santa Fe Café-Obs and an Express Reefer.  Colin Kikawa
Santa Fe's 2-8-2s and HO Models.  John Thompson
Workin' on the Santa Fe in 1941 (old film).  Steve Rippeteau
Santa Fe Signal Installations.  Tom Green
Bill Messecar will host an operating session on April 20th for interested members.  Contact Bill to make arrangements.

April 28,2018 – Denver Area Mini Meet, All Modelers Welcome.  Heritage Enclave Clubhouse 9698 Brook Hill Ave, Lone Tree, CO 80124.  Registration opens at 8:00 AM, Program Begins at 8:30AM, ends at Noon. Cost is $5.00 per person at the door.  There will be door prizes! Please contact Denny Krausman (303) 880-1879, dkrausman@msn.com

Diesel Details.  Mike Tomei
The Midland Connection.  Mel McFarland
Cushion Underframes after the Duryea Era.
Please send us your planned mini-meets so other Santa Fe fans can attend!
Recent Mini-Meet Report:  2017 Southern California Mini-Meet Report
Despite all the rain that has been falling in California this year, Saturday, February 4, was a dry and beautiful day, and a great day for the Mini-Meet. The event was attended by 110 enthusiastic individuals, most from throughout California. Five came from Arizona. One individual in Howland, Ohio, learned of the event and was fortunate to be in Los Angeles on business that week and was able to attend.
For the second consecutive year, the Mini Meet was held at the Christ Lutheran Church of West Covina. Attendees miss seeing the passing trains at the San Bernardino Depot where the Mini-Meet was previously held, but they strongly favor the comfort that the facilities at the West Covina location has to offer.
The day was filled with five clinics.
"The L.A. Terminal in the 1930's & 40″s, by John Signor, Society editor and California rail historian;
"Modeling Southern California in the 1960s," also by John Signor;
"Modeling the California Citrus Industry," by Bob Chaparro, a local railfan/modeler and citrus industry expert;
"Railroading in the Steam Era" was a panel discussion moderated by Keith Jordan that included five former Santa Fe employees and Stan Kistler, the noted steam historian, in a roundtable discussion;
"Cajon, Tehachapi, Arizona & New Mexico in the 1970s & 80s," by Charles Lang.
During the breaks between clinics, those attending spent time at the 14 vendor tables and the very large modular layout presented by the California Free-Mo layout group. Of special note is the fact that the modular layout was operating on Sunday for the church members and their families to view, and on Monday for the more than 230 elementary grade students who attend the Lutheran school adjacent to the church. The older children especially enjoyed seeing the model trains being operated. Hopefully some of them will someday be railfans and modelers.
In addition to the above, something else happened at the Mini Meet. Its something that happens at every other Mini Meet, convention and event associated with our Society. It's the interaction among attendees: meeting new friends, renewing old friendships, exchanging information and learning about subjects relating to modeling and/or the Santa Fe Railway. It cannot be precisely described or measured, but it happened at this Mini Meet as it does at all such events.
Gene Rutledge and I thank all those who attended the meet as well as those who assisted in any way in presenting it. Planing for the 2018 Mini Meet is underway.
–Charlie Schultz
We are looking for a new Southern California Mini-Meet coordinator.  If interested, contact mailto:Pres@atsfrr.net.
Past Mini-Meet Reports:
The Society has had Mini-Meets in the following areas (click on link to see past mini-meet reports!):
Denver
East Coast
Fort Madison
Pacific Northwest
Southern Caifornia
Winslow