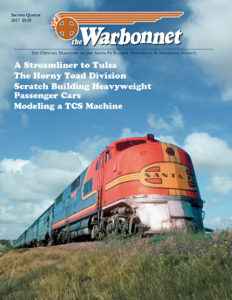 The Society and its predecessors have been publishing information about the Santa Fe since 1969. The Society offers exceptional publications on the history and modeling of the Santa Fe. From its flagship quarterly magazine, The Warbonnet, to its comprehensive books on history, motive power, rolling stock and modeling, the Society is the definitive and authoritative source on all things Santa Fe.
Running Extra
Supporting the Society's publication efforts
New Publications
Check here for news on the newest books and materials released by the Santa Fe Railway Historical and Modeling Society!  We are the definitive source for complete, accurate information on the Santa Fe Railway.
Santa Fe Steam Compendium Volume 1, By Joseph A. Strapac.   This book catalogs the known steam locomotives operated by one particular railroad business enterprise over the course of its corporate existence, commonly known as the Santa Fe Railway. It is the first of two volumes, addressing the locomotive wheel arrangements used on the Santa Fe beginning in the 19thCentury.  In effect, this publication is a database—a formal collection of tables, summarizing and cross-referencing the more than three thousand steam locomotives owned and operated by the Santa Fe between 1869 and 1983. These tabulations are the result of dozens of man-years of labor, beginning with the efforts of anonymous clerks in the offices of forgotten locomotive manufacturers and railroad corporations.  Eventually Professor Sylvan R. Wood, Oklahoma Agricultural and Mechanical College, Stillwater, Oklahoma created a locomotive roster database for the Santa Fe.  (This is not a reprint of Iron Horses of the Santa Fe Trail.) This publication is a digital, updated version of that original database.  590 pages, tables, folio drawings, 492 photographs.  Available on CD.
Santa Fe Depots: The Eastern Lines, by Robert D. Walz.  This book continues the work of the late Robert E. Pounds and William W. Childers in documenting Santa Fe depots.  It contains a route-by-route and station-by station look at the depots of the Eastern Lines Grand Division of the Atchison, Topeka and Santa Fe Railway system, using a format developed by John McCall for the listing of stations and the arrangement of accompanying data, that has been used in four previous books on Santa Fe depots. The Eastern Lines of the Santa Fe covered by this book ran from Chicago on the east end to Boise City, Oklahoma on the far west.  Lines also ran from Ottawa, Kansas to Tulsa, Oklahoma, from Superior, Nebraska through Wichita to Wellington, Kansas and from Newton to Arkansas City, Kansas, and Purcell, Oklahoma.  The Santa Fe had depots or towers at more than 620 stations in this territory ranging from small one-room wood frame boxes to large masonry edifices with more than 20 rooms.   Hardcover 208 pages, 568 photos, and index.  Available.
An Organizational  History of the Santa Fe 1969-1995, by Robert D. Walz.  One of the most confusing aspects of Santa Fe history has been what division a particular location or line belonged to at any point in time.  At various times La Junta, Colorado, belonged to the Western, Arkansas River, Colorado, Panhandle, or Kansas Division as well as the Eastern Region.   This monograph tells the story of the changes in the Santa Fe's organization throughout its history.  It looks at the Santa Fe's organization by giving a snapshot of what was in existence at particular points in time and discusses the changes in between. For each snapshot there is a John Signor-drawn map visually showing the Santa Fe's organization at that time.  56 pages, 12 maps, 28 photos, addendum.  Available.
The Warbonnet
The Society's flagship quarterly magazine, The Warbonnet, offers lavishly illustrated articles on the history and modeling of the Santa Fe and its affiliated companies. Each issue is at least 40 pages, often more, typically includes articles by noted authors, often accompanied by full color photos, maps and drawings; modeling articles with useful "how to" tips; letters from Society members contributing additional information on past articles, and product reviews. Issued in March, June, September and December of each year. Under its current editor, John R. Signor, The Warbonnet has never missed an issue or a publication window! Members receive The Warbonnet at a discounted rate.
Running Extra
The Society's quarterly newsletter, Running Extra, features Society news to keep members up-to-date on new books, products, minimeets and other aspects of Society operation. It also features the Santa Fe Challenge – an opportunity to test your knowledge of Santa Fe history against other members, Questions and Answers collected from the Society's forums but judged of general interest, and an ever changing mix of short articles on research, history and employee anecdotes of their lives on the Santa Fe. The Running Extra is typically 8 pages issued quarterly in conjunction with The Warbonnet. Members receive the Running Extra as part of their membership.
The Society Book Project
Each year, the Society strives to bring out one to three books about the history or modeling of the Santa Fe or reprints of significant company documents. The Society has published these books in several series of interest to both railfans and modelers alike. Members receive these books at a discount, typically 20 percent. The major series are:
Rolling Stock Reference Series.  This series of eight books provides an overview of Santa Fe work equipment, refrigerator cars, boxcars, tank cars and open top (hopper, flat and gondola) cars.  A supplemental book is the invaluable Listing of Freight Cars by Class and Number 1906-1991.  Future books in this series will cover covered hoppers and gondolas (1959 to present), flats, stacks and autoracks and the Santa Fe's intermodal equipment.
Passenger Car Reference Series.  This series of five books covers the Santa Fe's head end cars, coaches, chair cars, dining, parlor and beverage cars, business and special purpose cars, and sleepers.  Supplemental materials provide lists of passenger consists.
Painting and Lettering Guide Series.  This series of three books aimed at the modeler provides a comprehensive overview of the Santa Fe's painting and lettering practices over the years.  Volumes are available on freight cars, steam locomotives and diesel locomotives.
Regional History Series.  This series of books provides an in-depth look at different sections of the Santa Fe, with a focus on divisional histories and highlights on lines and areas of particular interest.
Commodity Series.  This series of books examines the different lines of business that the Santa Fe pursued, with a focus on the interaction of business needs with rolling stock and operational requirements.  Perfect for the general historian or operations oriented modeler.
General History Series.  This series of books provides a general overview of Santa Fe operations and history, including personal stories.
Reprint Series.  The reprint series reproduces critical documents that help tell the story of the Santa Fe in its own words.  It includes time tables and other materials.
Click here to learn more about the Society's Book Project and the individual books that comprise each series.
Click here to browse and purchase Society books, and much more!
Supporting the Society's Publication Efforts
The Society depends upon members, scholars, modelers and interested members of the public to support its publications by sharing manuscripts, photographs and historic documents that bring to light the history and legacy of the Santa Fe and its modeling.  If you can support these efforts please contact:
John Signor, Editor of The Warbonnet
Eric Hiser, Editor of Running Extra
Robert Walz, Publications Coordinator
Requests for permission to reprint Society materials should be directed to Eric Hiser.