2017 Convention Report
The 37th annual Santa Fe Railway Historical & Modeling Society Convention was held for the first time in Tulsa, Oklahoma, on June 21 – 25, 2017. Fittingly, our theme was The Tulsan, which was a Tulsa to Kansas City streamliner with connections to and from Chicago.
Extra Fare Activities
While in downtown Bartlesville, we visited the Phillips 66 Museum and the Bartlesville Historical Society. The Historical Society Museum has a large collection of Santa Fe photographs. Nearby was the Price Tower Arts Center and an MKT coaling tower.
Some photos of our Extra Fare trip: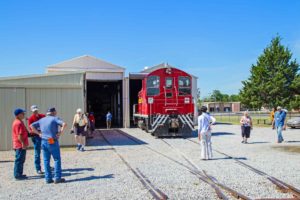 Convention Clinics
Our excellent Clinic Organizer, Bob Walz, rounded up clinics covering both Santa Fe and BNSF topics including Denny Krausman- "Building a Prairie School Depot", Bob Walz- "Otto Perry's Santa Fe", Mike Flick- "Tulsa Passenger Service", Eric Goodman- "Constructing the Emporia Sub in HO", Merrill Walz- "Business the Fred Harvey Way", Steve Sandifer- "Howard Branch in History and Model", Kenny Rhodes- "Riding the Vista Canyon", Craig Ordner- "SFRH&MS Archives", Eric Hiser- "Freight Car Distribution", Dr. Ray Quackenbush- "Shawnee Depot and Shawnee Operations", Ramon Rhodes- "Modeling BNSF Operations", Mike Tomei- "Modeling BNSF Diesels", Keel Middleton- "BNSF Operations" and more.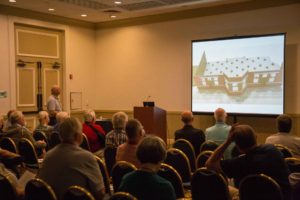 Model and Photo Contest
The Society had another good showing in the model and photo contest.  Below are photos of members judging some of the entries (popular and technical votes), a model of the Bartlesville, Oklahoma depot we saw during the Extra Fare trip (model by Kevin Looff).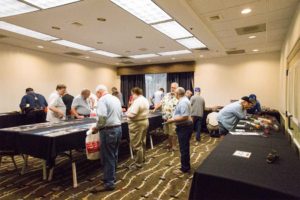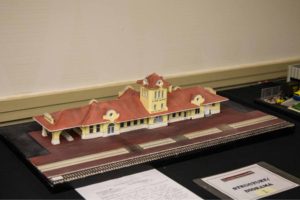 Click here to see photos of all the award winning models at the 2017 Tulsa Convention!
Awards Banquet
The Society gathered for its annual awards banquet on Saturday night.  Both Santa Fe and BNSF modelers and photographers were recognized for their efforts.  Raffle prizes were distributed.  The Society then honored its members enrolled on the Perpetual Roll of Honor.  New honorees in 2017 included Denny Krausman and Ian MacKellar as Master Santa Fe Modelers; Douglas J. Watts as Honorary Life Member for service to the Society; and Dennis J. Kogan received the coveted Lifetime Achievement Award for his work on the Santa Fe's lightweight passenger fleet (and auxiliary details).