2020 sfrh&ms virtual convention REPORT
About 110 Santa Fe historians, modelers and railfans met by Zoom on Saturday, June 20, 2020, to view slides shared by members and hear presentations from Bob Walz, Frank Peacock and Stan Kistler and to participate in the Society Annual Business Meeting.  In addition, the Society, McMillan Publications and Westerfield Models offered "Convention Specials" on merchandise for attendees.
Convention program
All times in Pacific Daylight Time
  7:30 am     ZOOM link opens.  Santa Fe image slide show
  8:00 am     Welcome/Introduction/Explanation of Zoom features, Eric Hiser, President
  8:15 am     Clinic:  Some Santa Fe-Served Industries You Can Model, Bob Walz
  9:15 am     Clinic:  Steam Locomotive Parts, Appliances and Fittings, Frank Peacock
10:15 am     Break/Slide Show of Members' Images (see below how to submit)
10:45 am     Clinic:  Remembering the Santa Fe, Parts 1 and 2, Stan Kistler
12:45 pm     Annual Business Meeting, Eric Hiser, President, and Officers of the Society
  2:45 pm     Adjourn (approximate); Slide Show resumes
  3:15 pm     ZOOM link closes
our clinicians:
Bob Walz is an officer and director of the Society and a noted author on Santa Fe topics.  Bob has written on the Speedway, the New Mexico Division, and other topics.  He is the lead proponent for the Society's Commodity Series, which addresses the Santa Fe's relationship to grain, livestock, and other products.  Bob spoke about Some Santa Fe-Served Industries You Can Model.  His presentation focused on images of industries served by the Santa Fe and models that he or others had made of those same industries.  Bob covered a wide-variety of areas on the Santa Fe (Eastern Lines, Western Lines, Gulf Lines and Coast Lines) and a number of industrial areas, including grain, petroleum, mining, lumber, power plant and numerous others.  Bob is working on a possible future book on modeling industries.  If you have research an industry and modeled it, please contact Bob!
Frank Peacock is a long-time Society member with an interest in steam.  Several years ago, he realized that he did not know all the detailed parts of a steam locomotive and that lack hampered his ability to recognize and identify steam and to model it properly.  He resolved to learn and share what he learned so that others can also appreciate steam locomotives and their models.  In his clinic, Frank took Society members through a number of the important pieces of locomotives, including the various type of feedwater heaters, some valve gears, stokers, and showed how to identify them and how they worked.  A fascinating introduction into steam ancillary equipment.
Stan Kistler needs no introduction.  The dean of Santa Fe railway photographers, Stan spent many years visiting Santa Fe tracks, mostly in California but also with memorable trips beyond, cataloging and photographing the Santa Fe.  He has gathered together many of his recollections into this video presentation. Stan spoke for 90 minutes by video presentation recalling his growing up along the Santa Fe, starting to photograph, interactions with Santa Fe personnel, meeting a Santa Fe superintendent and striking up a friendship, and several Southern California railfan trips.
convention vendors and specials
The Society would like to express its appreciation to the vendors who attend many of its Conventions.  Our vendors' presence adds considerably to the excitement and allure of our Conventions.  We wanted to share with them the opportunity during this period of COVID-19 to share their products and some Convention Specials with our attendees.  They rely upon us to keep them in business and we rely upon them to help our modeling or historical interests.  This section of the webpage lists our Virtual Convention Vendors and their offerings.  We have listed them alphabetically after the Company Store.  Thanks to all our vendors!
SFRH&MS Company store
The Society is offering the following new products at the Virtual Convention!
Santa Fe's New Mexico Division:  Varnish, Coal, Copper and Cattle.  By Robert D. Walz
The next in the Society's series of divisional histories.  This volume covers the history of the New Mexico Division from 1877 to 1995 as the division was constituted in 1942 with a main line from La Junta, CO to El Paso, TX, and associated branch lines.  The New Mexico Division was unique in that passenger traffic was five times greater than freight traffic through most of its history.  Almost all of the Santa Fe's famous name trains passed through the division at one time or another.  Coal and copper, zince and iron ore contributed the bulk of online freight traffic.  It was also a scenic division and frequented by Otto Perry, Richard Kindig, Preston George, Stan Kistler, Steve Patterson and Joe McMillan, all of whose work is represented.
List price:  $50.00.  Member price:  $40.00 (after coupon).  Tax additional in some jurisdictions.  ORDER NOW
Santa Fe Steam Compendium:  Volume 2 – Modern Locomotives.  By Joseph A. Strapac 

[RESERVATIONS]
The second of noted locomotive historian Joe Strapac's monumental works cataloging the history of Santa Fe's steam locomotives.  Building on the shoes of multiple predecessors' efforts, Joe has tracked down information on locomotives "lost" from prior collections such as Iron Horses of the Santa Fe Trail.  Complete histories, when possible, include builder, specifications, numerous photos often both builders and in-service, and disposition.  Classes include most of Santa Fe's famous "larger" locomotives, such as the eponymous 2-10-2, 2-10-4, 4-8-2, 4-8-4.  As a special addition to this work, Joe has found information on Santa Fe's subsidiary, acquired and affiliated lines as well.  Beautifully illustrated, this book comes in at nearly 600 pages of information and close to 900 photographs.
List price:  $150.00.  Member price:  $130.00 (after coupon).  Tax additional in some jurisdiction.  Book is in hand and will print in October 2020.  RESERVE NOW.
Missed Santa Fe Steam Compendium: Volume 1?  We are taking reservations for a possible Second Edition.  We will print in October 2020 if enough reservations received.
List price:  $150.00.  Member price:  $130.00 (after coupon).  RESERVE NOW
Santa Fe Steam Compendium:  Volume 2 – Modern Locomotives:  The CD.  By Joseph A. Strapac
The Santa Fe Steam Compendium in digital format.  Now you can resize your favorite locomotives to as large as you would like on your screen to see all of your favorite details.  All the information of the book at a lower price.  Get them both!
List price:  $40.00.  Member price:  $32.00 (after coupon).  Tax additional in some jurisdictions.  ORDER NOW
Special Offers:
Santa Fe Steam Compendium:  Volume 1 and Volume 2, 2 CD Set.  List price $75.00.  Member price:  $60.00 (after coupon).  Tax additional.  ORDER NOW
Santa Fe System Time Table:  April 2, 1950 (reprint)
The next in the Society's series of reprints of Santa Fe time tables system-wide.  This edition includes nearly 400 pages including all divisions on the Eastern, Western, Coast and Gulf, Colorado & Santa Fe Railway plus the joint Denver Division time table with the Denver & Rio Grande Western.
List price:  $50.00.  Member price:  $40.00 (with coupon).  Tax additional in some jurisdictions.  ORDER NOW.
SFRH&MS Western Archives Offer!
The volunteers at the Society's Western Archives in San Bernardino have been busy scanning items and making them available for members.  Check out the Western Archives page in the Company Store!  You will find:
Rulebooks
Track Charts
CLIC books
mcmillan publications
Joe McMillan is back with his ever popular Santa Fe and BNSF 2021 Calendars.  D
on't miss the opportunity to order yours!
2021 Santa Fe Calendar.  Available in September.  Cost is $16.95.  Orders can be placed on the www.McMillanPublications.com website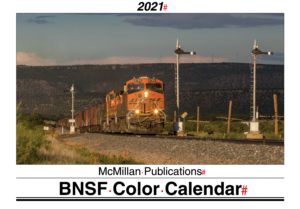 2021 BNSF Calendar.  Available in September.  Cost is $16.95.
westerfield models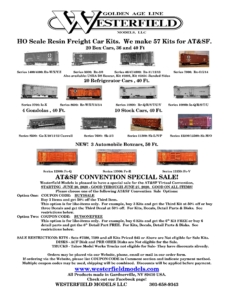 The Society is pleased to that Westerfield Models is joining us for the Virtual Convention with a great line-up of Santa Fe prototype cars and a special convention offer!  Westerfield offers 57 AT&SF kits, including 20 boxcars, 20 refrigerator cars, 10 stock cars, and 3 furniture boxcars.  The Westerfield price list is available here.
ORDERING: 
Orders may be placed via our Website, phone, email or mail in our order form.
www.westerfieldmodels.com
WESTERFIELD MODELS LLC 303-658-9343
special thanks:
The Society would like to express its sincere thanks to Dave Traudt, Fred Morton and the other members and clinicians of the postponed 2020 Albuquerque Conventions.  They did a great job putting together a fantastic program and we know that they are disappointed to have to wait another year, but we look forward to what they have planned.  Thanks!
The Society would also like to express thanks to Eric Hiser and Bob Walz for organizing the 2020 Virtual Convention and to Anne Stone for providing the Zoom service.  Without them, the 2020 Virtual Convention could not have happened!