We held our Indianapolis Santa Fe Mini Meet on Saturday, March 12, 2022 at the Allisonville Christian Church on the city's Northeast side.  After having a two-year hiatus due to COVID it was great to have the opportunity to get together again this year.  Despite an unseasonably cold and windy day 48 people braved the elements to attend the Mini Meet.  It was particularly special to have Santa Fe Master Modeler #1, Jurgen Dietrichkeit, with us all the way from Munich Germany.
The program featured five informative and interesting presentations covering both prototype information as well as modeling information.
There were also 11 participants offering items for sale at the Swap Meet.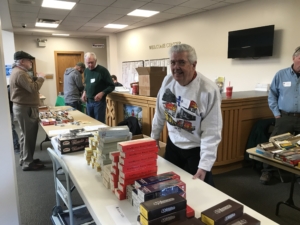 The first presentation of the day was by Keith Jordan who talked about the Santa Fe's Redland Loop history and operation; and then his current efforts to model a Southern California Branchline featuring the Redlands Loop in O Scale.  Keith closed with a moving tribute to the late Warren Scholl.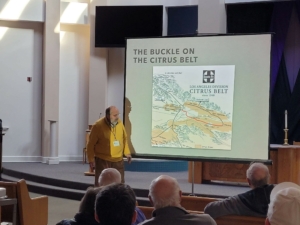 Keith was followed by Ramon Rhodes' presentation on the Santa Fe Railway operations in Chicago in the 1990s that featured a pictorial review of operations and equipment in and around the greater Chicago area.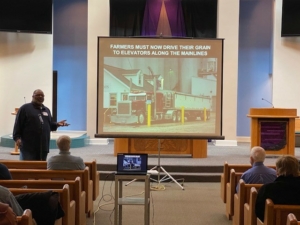 After a break for lunch, Bruce McKeown, Santa Fe Master Modeler #6, presented "You Can Still Make Railroad Models for Model Railroads! Part Two" was an update on his efforts to kitbashing available cars into creditable models of Santa Fe rolling stock and structures.  Bruce discussed how building a model of a Santa Fe scale car also led him to build a model of a scale house for his layout.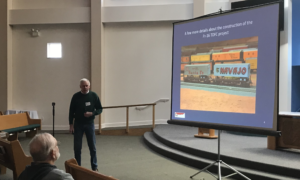 Next John DePaemelaere talked about his career on the Santa Fe, "From Switchman to Road Foreman, And All the Time in Between (San Diego and the 4th District)".  John showed a number of slides of the San Diego area.  He talked about his early career on the Santa Fe including several humorous events he was part of during the early years.  For a primarily Midwestern audience this was a fascinating topic about part of the railroad many in the audience had never seen.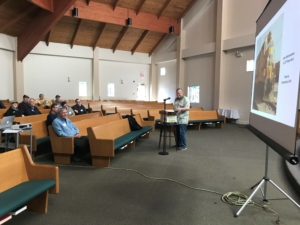 The final speaker of the day was James Brown presenting the "ATSF History of Chillicothe, Illinois with Edelstein Hill".  James's conducted extensive research for his book on the Illinois Division and used much of the information he gathered through interviews and record research to develop this presentation of the how the railroad impacted the development of Chillicothe.  James closed with a video tribute to the late Paul Nash.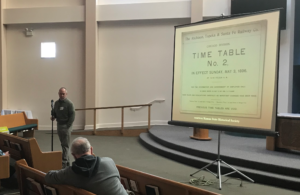 We are very appreciative to all of the presenters and the Santa Fe fans that came from Indiana, Illinois, Kentucky, Ohio, Kansas and Germany.
Thanks to member Thomas Cain for this report on the 2022 Indianapolis Minimeet!