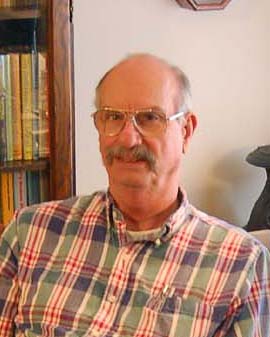 While unloading his vehicle at the Southern California Santa Fe Mini-meet on February 6, 2016, Lee collapsed. He was rushed to the hospital where he died.
Lee was a long-time member of the Society and assisted with the Western Archives. He was a regular contributor to various book projects and was generous with his time, photos and archives.
Lee co-authored two books on the Coast Lines Depots published by Omni Publications in 1991 and 1996.
Lee Gustafson was born in Illinois and his family moved to Santa Monica when he was only fourteen months old. He liked to consider himself meeting the qualifications for being a Southern California "native". He was raised in the areas of Mar Vista and Culver City, both of which were served by Pacific Electric. His initial interest in traction goes back as far as he can remember. As a six-year old, he and his mother rode PE's 5050 Class "Hollywood" cars to Venice & Santa Monica and Los Angeles Transit Lines "W" car line to Los Angeles. After graduating from high school, he attended Santa Monica City College and began working for the Culver City post office as a substitute clerk and letter carrier.
Lee's first experience with the Santa Fe was in late 1961 when he and one of his neighborhood buddies decided to ride their bicycles (with a Brownie box camera hung around the handle bars) from Culver City to Inglewood via Pacific Electric's (ex Santa Fe) line to that city. It was there that they encountered the 1888-built depot with zebra-striped Alco switchers parked nearby.
Finding an old broken AT&SF marker lamp in the trash bin next to the tool house was like discovering a buried treasure that day. It was this experience and others like it, that sparked his interest in collecting rail-road artifacts and photographing depots and trains that continues to this day.
In 1965, Lee entered the U.S. Army, spending most of his time stationed in France. Upon separation, he returned to working for the post office where he eventually advanced to various management positions.
Lee soon found himself devoting more and more time capturing on film the slowly vanishing railroad depots and other facilities. His interests turned to the historical and architectural aspects of California's rail-roads. He began traveling with a friend over much of the United States on back roads to various towns and out-of-the-way places to photograph depots and trains, amassing over 12,000 prints and digital images.
Over the years Lee has amassed a substantial collection of railroad research material and memorabilia, including an extensive collection of employee timetables and rail-road engineering department drawings. Having some experience in cartography and drafting, he has created published drawings and maps pertaining to railroad depots and history. His research material includes multiple file drawers and cabinets of railroad historical information, mostly pertaining to western states railroads, and particularly Southern California. In 1998, he began utilizing spreadsheet and database programs to record newly acquired information and data on various railroad localities and subjects.
Besides being involved with the Santa Fe Railway Historical and Modeling Society, Lee is a member of the Railroad Station Historical Society, Pacific Railroad Society, Orange Empire Railway Museum and the historical society of that "other railroad" that operated extensively in California.
Lee has co-authored two books with his good friend and publisher Phil Serpico on Santa Fe depots in the state of California and has assisted other authors by providing historical information and photographs of various railroad subjects.
After more than thirty-six years of service, Lee retired in 2000 from the United States Postal Service, as post-master of Malibu. He had two adult children and resided in west Simi Valley since 2003.