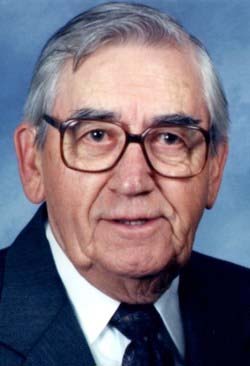 Harry James Briscoe, 98, of Topeka, Kansas passed away Tuesday morning January 12, 2016 at Stormont-Vail Hospital.
Mr. Briscoe was born in New London, MO on September 15, 1917, the youngest of three sons of Harry C. and Mollie B. Johnson Briscoe. He graduated High School in New London in 1935 and attended Chillicothe Business College in NE Missouri where he learned basic business principles, penmanship and shorthand. In 1937 he joined the Santa Fe Railway in Slaton, TX as a stenographer and began what would be his life's work, culminating in Topeka, 45 years later. The career was interrupted by military service from January 1942 through June 1945. Among other assignments, he was Chief Yeoman on the USS Flaherty in the North Atlantic during World War II.
Early in his Santa Fe career, Harry met Mary Catherine Brown from Olpe, KS. On Sunday, December 11, 1941 Harry and Mary were at Union Station in Kansas City when the bombing of Pearl Harbor was announced. On hearing that news, Harry quickly made two important decisions. He decided to immediately join the Navy, and he asked Mary to marry him. They were wed on a week-end leave on June 6, 1942 in St. Louis, MO. Following a Cardinals baseball game that afternoon, Harry returned to his base and Mary to her job in Topeka. So began a 65-year adventure that would last until Mary's passing in May of 2007. Harry and Mary had four children; Mary Kay, who died in early childhood, Harry J. (spouse, Jane Ann Dumm) of Houston, TX, Molly Anne (spouse Don Morris) in Riverside, Ca., and David L. (spouse Cynthia Marie Edstrom) in Newton, KS. Harry had two grandchildren, Jennifer Kay Briscoe Rosser and Matthew James, both married and in Houston, TX, and two great-grandchildren, Catherine Jane Rosser and John Briscoe Rosser.
Harry Briscoe's Santa Fe career was an exceptional journey of contribution and achievement with moves to eleven different locations in Texas, Oklahoma, Colorado, Kansas, Illinois and California. In 1973 he was transferred to Topeka as General Manager of the Eastern Lines. He retired from the Santa Fe in 1982 and in 2005 wrote a book, "Watching the Trains Go By", to chronicle his exceptional career, and the railroad business of the twentieth century.
Throughout his life, Mr. Briscoe was very active and diversely involved in community activities. He was a life member of Rotary International and received the Paul Harris Fellowship award. During his time in Topeka, Briscoe was a board member or officer with The Greater Topeka Chamber of Commerce, the Governor's Task Force on Effective Management, the Governor's Task Force on Water Management, the Memorial Hospital, the Kansas Association of Commerce and Industry, the Saint Mary's College President's Council, The First National Bank of Topeka, the Employee's Benefit Association, and the Independent College Fund. He was a Trustee with the Kansas State Historical Society during the building of their permanent museum and complex, and he was instrumental in securing the locomotive that is the centerpiece of that facility. He was an active supporter of the Overland Station renovation and development, and much of his personal collection of Santa Fe memorabilia is on display in the museum there. In 1983 he was recognized as a 'leading citizen' in a Proclamation from the Mayor of Topeka. He was a member of the West Side Christian Church.
Harry was an engaging and jovial participant at the great many events common to a large extended family. He enjoyed fishing, quail hunting and bird-dog training, and spent his free time teaching those pastimes to his two sons and his grandson, and sharing them with many relatives and friends.
Harry Briscoe was preceded in death by his wife, Mary C., his daughter, Mary K., and his two brothers, Robert C. and Jesse B. Briscoe. He is survived by his immediate family and an extensive extended family, primarily in Kansas and Missouri.
The family wishes to thank the entire staff at Brewster Place in Topeka for their kind and sincere attention during his recent years as a resident there, and also to Curtis Holderbach for his kind attention as a personal care-giver and companion.
A memorial service will be held at 11:00 a.m., Monday, January 18, 2016 at West Side Christian Church.  A reception and lunch will follow the service.  Private family graveside services will be held.
Memorial contributions may be given in Harry's memory to the Capper Foundation, Midland Hospice or to the Salvation Army sent in care of Brennan-Mathena Funeral Home, 800 S.W. 6thAvenue, Topeka, Kansas 66603.
Online condolences and fond memories may be left at www.brennanmathenafh.com
David Briscoe
1805 Firebox
Newton, Kansas 67114