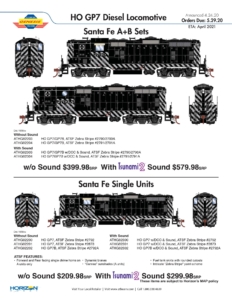 Athearn has announced the release of an HO EMD GP7 and GP7B unit in the black/silver zebra paint scheme. Units are available with or without DCC and sound.  According to Michael Flick, this is the first time GP7 B units have been available in the zebra stripe paint scheme.  Available units and sets:  A and B sets numbered #2790/2791A and #2791/2791A.  Individual units:  GP7 #2792, #2873; GP7 B unit #2792A.  Orders due May 29, 2020, with an estimated arrival date of April 2021.
The Santa Fe had 250 GP7s, built between 1950 and 1953, including all five of the GP7Bs ever produced by EMD.  The class was delivered in the 2650-2893 number series wearing the black/silver zebra strip scheme and wore that paint scheme until rebuilt in the mid-1970s, when they were repainted with the blue and yellow warbonnet scheme and renumbered into three separate series.
Steve Sandifer adds: Athearn has announced the production of more GP-7s in zebra which includes the GP-7 boosters, 2789A and 2792A. The Santa Fe owned 4 of these pairs and tended to run the numbers together for the first few years. They joined the railroad in April, 1953.
Thanks to Michael Flick, Steve Sandifer for this product update and Ralph Back for the improved image.