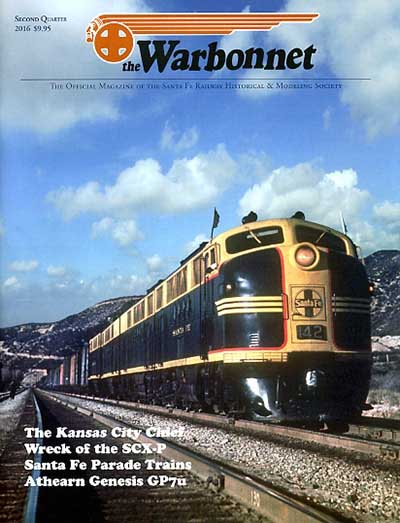 Volume 22, Number 2 – Second Quarter 2016
Features:
Wreck of the SCX-P by Don Sheets
The Kansas City Chief by Michael W. Flick
Santa Fe Gallery
Santa Fe's Parade Trains by John R. Signor
California Limited Trip Report by Charles S. Fee
Improving the Genesis GP7u by Sean Graham-White
Random Thoughts on Life in Prescott by Jerry Boudreaux
Product Reviews and Announcements:

BLI E-1 locomotives
BLMA BX-166 Insulated Boxcars
Athearn Genesis BP7/GP7B sets
Click here to order your copy.
*Note: The Warbonnet is now accepting Santa Fe-related advertising
Articles in preparation for future issues of The Warbonnet. Drop the editor a line if you can help. . .
Argentine, Kansas
Auto Parts Cars and Traffic
Big Canyon, Oklahoma – Preston George
Diesel Roof Detailing 1988-1995
Gallup, New Mexico
Ice Plants
Illinois Division "Airline" History
Lometa, Texas, a Santa Fe Standard Town
The Missouri Division
Modeling Lampasas, Texas
RSD15 Alligators
San Diegans
Santa Fe and the Movies
Santa Fe and Coal
Santa Fe Signalling – a History
Santa Fe Time Service
Santa Fe Trail Transportation Co.
San Francisco Terminal District
TCS Displays and operation